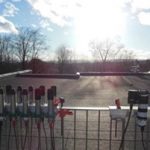 In autumn 2016 we expect all manufactures of Ocean Colour Radiometers (OCR) to participate our webinar, where we introduce the forthcoming events of FRM4SOC.
The  core  action  of  the  FRM4SOC  project  is  to  ensure that ground-based  measurements  of  ocean  colour  parameters are traceable  to  SI  standards  in  support  of ensuring  high quality and  accurate Sentinel-2  MSI  and  Sentinel-3  OLCI products. Therefore we consider important to involve all relevant expertise available in Europe and worldwide and attract as many participants providing radiometric calibration for the Ocean Colour (OC) community as possible.
This will include key instrument manufacturers of Ocean Colour Radiometers commonly in use as well as any other interested parties that have in-house radiometric laboratory facilities.
More details of the event are coming soon. Check our webpage for updates.